Whether you're an operator, a weekend warrior, a training junkie, or hell, even an airsoft commando, we're all looking for a great pair of pants that can get us through what we need to get done. Now we've all heard of the Crye G3 combat suits, and they're great. But for over $300 for a pair of pants what are some options out there that could be just as good for a fraction of the price? Then here it is NFSTRIKE G3 Combat suits.

Features:
Pants:
Made of 50% cotton and 50% polyester with a 4-way stretch-woven accents rip-stop clothing
Strong stretchable clothing around knee and hip and crotch, which makes it very comfortable and durable.
Come with the removable combat knee pads
Unique low-profile waist adjust system and knee pad height adjust system
Size adjustment at the back of waist, knee and ankle position
Up to 10 different size pockets, large carrying capacity
Zip fly with velcro closure, 2 hip pocket with zipper closure.
Shirts:
YKK Zipper and hook&loop closure designed for quick and easy putting in and off.
hook&loop on the outside for attaching patches or team logo.
Comfort placket behind zipper
Double layer bicep pocket
New eye-pro holder and pen pocket
Flexible hook&loop configuration on bicep pocket
Streamlined elbow pad configuration designed for use with our removable elbow pads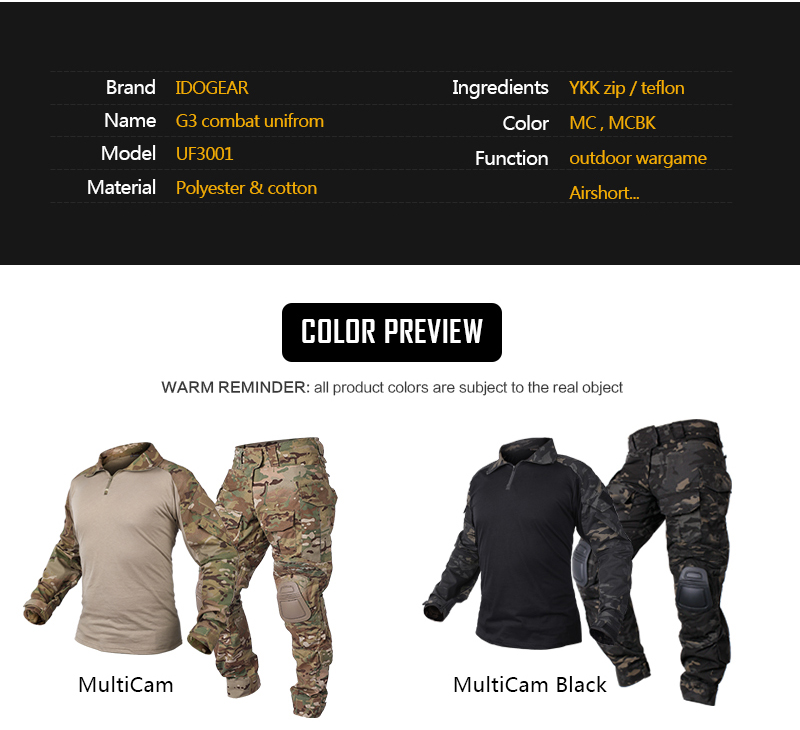 Package details:
1 x Pants
1 X shirt